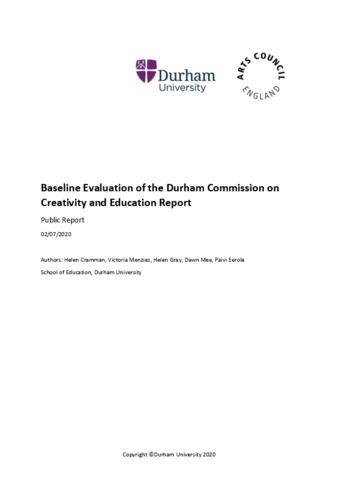 Download the full-sized PDF
Actions
Export to: EndNote | Zotero | Mendeley
Collections
This file is not currently in any collections.
Baseline Evaluation of the Durham Commission on Creativity and Education Report
Open Access
The Durham Commission on Creativity and Education published its Report on 11/10/2019 (Durham Commission, 2019). The Report contained a set of ten Recommendations, which aimed to establish and sustain the conditions for nurturing creativity in education through changes to the education system and wider system of learning for children. The ten Recommendations span a range of organisations that interact with the education of 0 to 18 year old children including the Department for Education, Ofqual, Ofsted, schools, Arts Council England, Higher Education Institutions, media organisations, youth sector organisations and call for change to take place at all levels of education. When it was first published the Report generated a large amount of interest through media coverage, parliamentary interest and access through the Durham Commission and Arts Council England (ACE) websites. This study aims to understand the early impact of the Report, four months on from its publication.
Descriptions
Resource type

Contributors

Creator:

Cramman, Helen 1


Creator:

Menzies, Victoria 1


Creator:

Gray, Helen 1


Creator:

Mee, Dawn 1


Creator:

Eerola, Paivi 1


1 Durham University, UK


Funder

Durham University Research England 2019 Strategic Priorities Fund




Research methods

Empirical evidence to study the early impact of the Durham Commission on Creativity and Education Report was collected through four methods: • Marketing and communications analytics • Online survey • Three focus groups • Eight telephone interviews.




Other description

Also published in Durham Research Online:  http://dro.dur.ac.uk/31342/



Keyword

Subject

Location

Language

Cited in

Identifier

ark:/32150/r2gm80hv372
doi:10.15128/r2gm80hv372


Rights

Publisher

Date Created

02/07/2020



File Details
Depositor

H. Cramman

Date Uploaded

21 July 2020, 17:07:37

Date Modified

22 July 2020, 12:07:42

Audit Status

Audits have not yet been run on this file.

Characterization

File format: pdf (Portable Document Format)


Mime type: application/pdf


File size: 2422314


Last modified: 2020:07:22 12:08:34+01:00


Filename: CC_20200702_BaselineEvaluationReport_ForPublication.pdf


Original checksum: 797112d04905dab59e4f346b75a108ae


Well formed: true


Valid: true


File author: MENZIES, VICTORIA


Page count: 52


File language: en-GB

Activity of users you follow

| User Activity | Date |
| --- | --- |